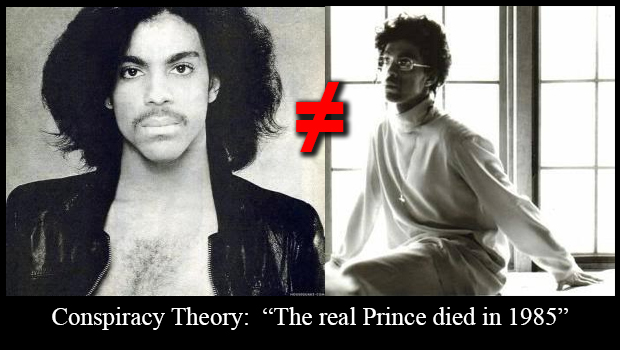 Prince was one of...if not the greatest musician of our time.  He was a huge influence in Shane Speal's Snake Oil Band.  In the wake of his passing, I just had to share a wild and untrue conspiracy theory that became the fodder in my band's tour van on several occasions.  We were fascinated with him and this just kept us talking more and more about his music on a very deep level.

In 2013, a Fark.com user, ZeroCorpse published his thesis, Prince is Dead in a comment thread.  (Source.)  True Prince fans will get a kick out of how plausible his theory sounds. 


Prince is Dead  (PrID)

After filming "Purple Rain", in late 1985, at the end of the "Purple Rain" tour, Prince Rogers Nelson died in a tragic motorcycle accident. Considering the success of "Purple Rain" and the fact that Prince was reaching his peak at the time of his demise, those close to him made the decision to replace him with a double, heavily modified with cosmetic surgery. Government ties ensured that the secret remained buried.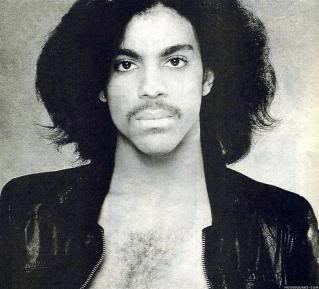 The real Prince, sometime around 1980.

This double differed from Prince in several ways:
He was shorter.

He was a bit more pale skinned.

He was a devout Jehovah's Witness with reservations about singing "dirty songs".

His voice is close, but not identical to the original's.

Prince had a great sense of humor. The new one didn't take a joke very well.

The new one is younger by several years (how many is uncertain)

The new one's name was Christopher.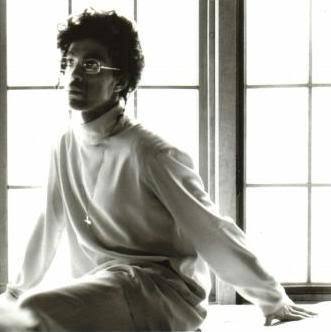 Christopher in character as Prince

Prince still had a large catalog of music that was unreleased, and they figured they could float on that for a long time, or at least re-record it with the new Prince.

Immediately, it was announced that Prince would discontinue live performances and music videos. This was because Christopher wasn't quite ready to be seen.

Prince was almost finished recording "Around The World In A Day" when he died.

The first album featuring the new Prince was "Around the World in a Day", on the track "The Ladder".  His voice is noticeably lower in pitch on this song. He also insisted on re-editing the song "Temptation" to be less "sex oriented" and turned it to a religiously-oriented song of judgment, instead of the testament to sexual indulgence it was originally.

"Hello" is a Prince song reworked into a Christopher song, and renamed to "introduce" Christopher to the world, and describe his introduction to being famous.  "I tried to tell them that I didn't want to sing..."  It was also a response to Christopher's hesitation to join "Live Aid" because he wasn't quite ready for an event so close to Prince's former friends and colleagues in the music industry.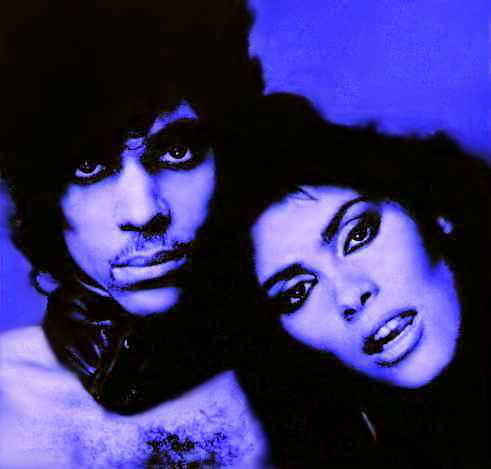 The real Prince with Vanity, early 1980s.

Christopher began doing videos as Prince when the sales of "Around the World in a Day" started to stall. The first video he did was "Raspberry Beret".

Christopher-Prince credited himself as "Christopher" on the Bangles' song "Manic Monday", among others.

The Revolution didn't like the new Prince, and they actively worked to out him, but they were told that if they revealed the truth, they would be killed. It wasn't long after the new Prince's debut that the Revolution disbanded.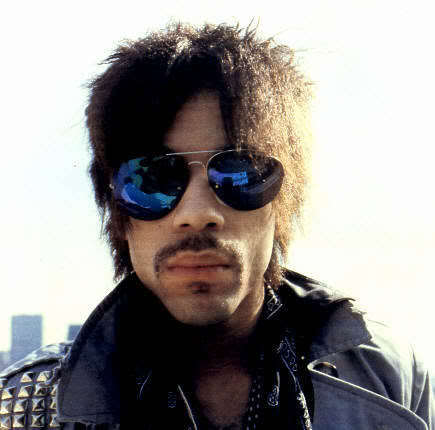 Early photo of the real Prince in his motorcycle gear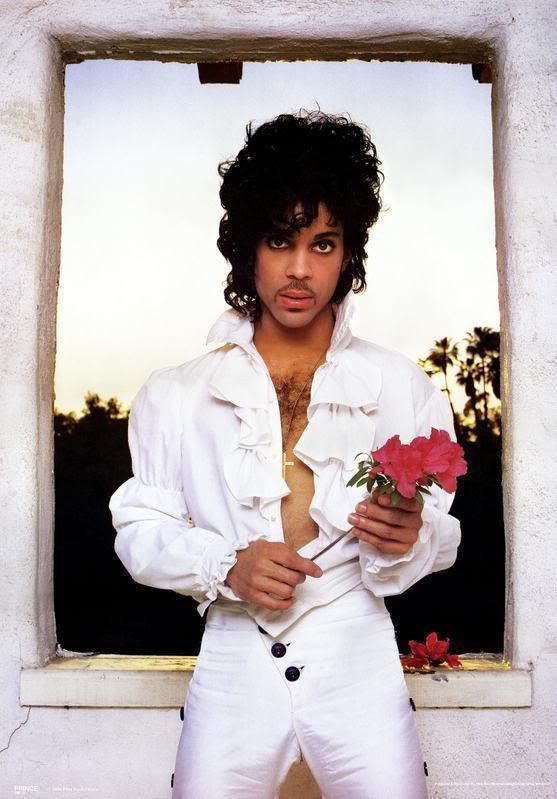 One of the last publicity photos Prince posed for, before his untimely death.

Clues are scattered through all albums from 1985 onward; Especially in soundtrack to Batman. "Batdance" is practically a retelling of Prince's death and the disdain that Christopher feels for his predecessor's sinful lifestyle.

To his credit, Christopher is an amazing performer, but he's not as open-minded as Prince was.

The New Power Generation was formed to cover up Christopher's inability to produce a whole album on his own (as was evidenced by the poor reviews of "Batman") - Christopher doesn't perform very much on "Diamonds & Pearls" because this was an attempt to shift the focus from Prince to the band. It didn't work out.

The cover of "The Hits/The B-Sides" is meant to be viewed sideways, to show a "dead" Prince Rogers Nelson laying in repose.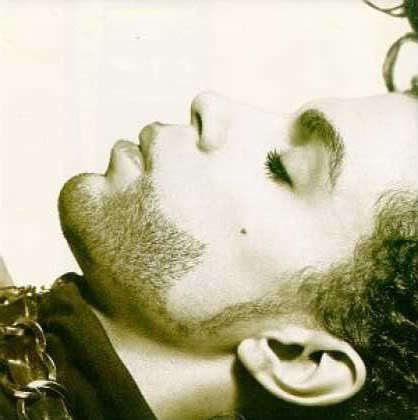 Prince lies in repose on the cover of "The Hits/The B-Sides"


The total shift in musical style was because Christopher was simply uninterested in Prince's former bare-bones Funk style, feeling more at home with R&B and Soul with more "spiritual" lyrics. While the original Prince was a devout Christian, he was not as restricted by his religious background as Christopher was. Christopher even refused to perform any of Prince's "racy" songs in concert.

Christopher spent a lot of time learning to dance like Prince from James Brown himself, who was commissioned for the job in exchange for lesser penalties for his crimes.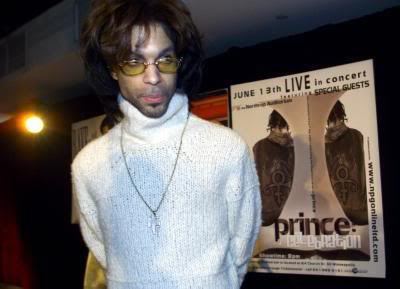 Christopher in a recent candid shot.

Basically, songs after 1985 that are explicitly sexual are old Prince songs that were in his catalog of unreleased tracks when he died.

"Under The Cherry Moon" was chock full of clues (both the movie and the soundtrack, "Parade".)  A lot of the music in "Parade" was written by Wendy & Lisa, or adapted from Prince's older works. "New Position" is one such song that was written and demoed by Prince prior to his death, but rerecorded with Prince's vocals by the Revolution. "Sometimes it Snows in April" was about Prince. They filmed in France to avoid the American press, and American film unions. The theme of Christopher being a gigolo was to parallel the idea of him being paid to replace another man. This was entirely Christopher's project.

The whole "The Artist Formerly Known As Prince" thing was Christopher's attempt to get out from under the Prince legacy. It failed.

"Camille", the Prince alter-ego, is actually code for "naughty" songs that were performed or written by Prince. Christopher tried not to take credit for them by saying it was "Camille" who performed them.

"My Name is Prince" is a declaration of Christopher taking Prince's name and making what he sees as positive changes in Prince's reputation.

"The Black Album" is the real Prince's last album, and Christopher did everything he could to prevent its release, wanting to avoid having the "dirty" Prince back in the public eye. He said his decision to prevent its release was due to a "spiritual epiphany."

Christopher was trying desperately to "reform" Prince's image to fit his own sensibilities, but audiences weren't as interested in this toned down, more spiritual Prince. His albums sales slipped, and his response was "Graffiti Bridge", which is meant as Christopher's sequel/answer to "Purple Rain".  In it, the Kid, now played by Christopher, laments people turning away from his music because he's spiritual, and wins out in the end because of his faith.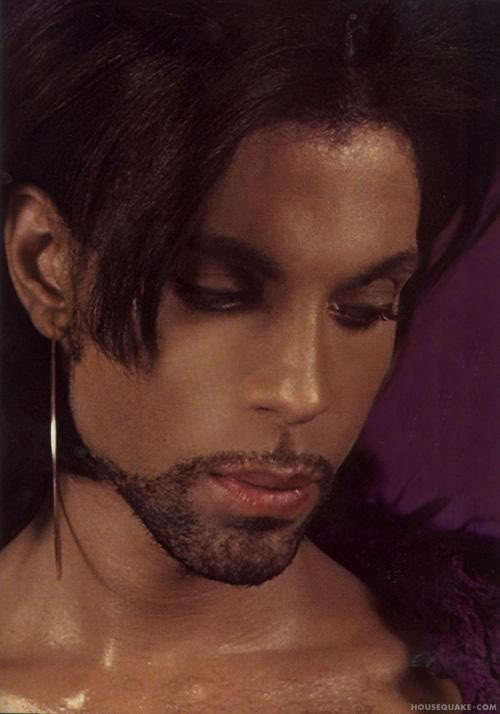 Christopher after his falling out with The Revolution

The Love Symbol as a name was another part of Christopher's attempt to break away from Prince's legacy. "The Artist" was so sick of being called "Prince" that he simply flipped out for a while and refused to acknowledge the name of his dead predecessor.

In 2001 Christopher took his religion public by having "Prince" get baptized as a Jehovah's Witness. This was sold as a "conversion" but was just a cover for the religion he'd always had, since before becoming Prince.

Christopher was having increasing problems being Warner Bros' Prince stand-in. He didn't like the direction they wanted him to go. He didn't like the contract he was under. He hated being Prince during this period in time, and was told that if he revealed the truth he would be "taken care of."  He responded by writing "Slave" on his cheek and releasing albums only to fulfill his contract with Warner Bros.

He called his album "Emancipation" because he felt that he was finally stepping free from Prince's shadow, and was free to do his own thing as long as he never openly revealed the truth. However, he continued to seed his music with references to his true identity. Warner made some requests, but gave him more creative control than they previously had in these final days of his contract with them.

On May 16, 2000 Christopher stopped using the Love Symbol and returned to allowing himself to be called "Prince", once he was out from Warner's control. The company felt he had dried up as an artist, and didn't pressure him anymore. He was free to perform whatever he pleased now. He immediately started producing albums that were essentially gospel recordings, leaving his old "naughty" image behind himself forever.

In 2008, Christopher went on record that he considers homosexuality a sin- Something the original Prince, who had his performers and bandmates simulate lesbian sex on stage, would never have done.

Despite his distaste for Prince's behavior and songs, Christopher has turned into a skilled performer in his own right. For all intents and purpose, Christopher is the only Prince, now.