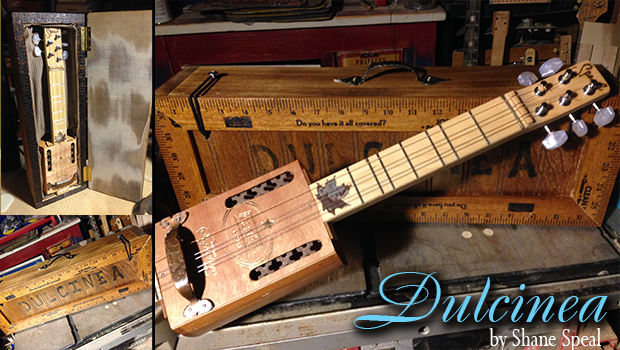 The Art of the Cigar Box Guitar
This is "Dulcinea," a cigar box 'octave-dulcimer.'  It's a mythological creation of my own that was borne last Saturday in my woodshop.  Although it's only six days old, it was built with a long history hidden inside the soundholes.
S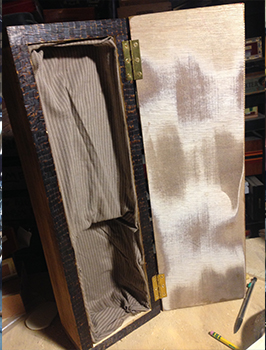 ometimes as I build instruments, I create the
backstory to them in my head.  It's like writing a book, except I'm using wood and strings instead of a typewriter and paper.  Here's the story of Dulcinea as it ran through my head while I built this instrument:

"In the 1930's, a woman named Dulcinea danced in small town burlesque shows. Her curves were the delight of men throughout the South and the highlight of her show was a seductive song she sang center stage. The tune, now long forgotten, was accompanied on a peculiar homemade instrument she held up to her chest.
Dulcinea was the attraction that kept men coming back night after night. A broken angel, yet unattainable.

And she danced for them all.  And she sang.  And then one day, she disappeared. 
Four decades later, a frail Dulcinea was rediscovered singing in a small Tennessee mountain church.  And she was still accompanying herself with that small, beautiful and peculiar homemade instrument.  The church members would always remain seated even after the service was over, just to hear her finish the postlude in her soft and broken voice. "Nearer my God to thee..."
She remained unmarried.  Alas, the only one to attain her was the Lord himself."
The instrument is small.  It's simple, yet it evolved into something completely beautiful.  In fact, the Dulcinea was beautiful to me that I had to build a handmade case just for it.  It needed a home.  I spent over an hour just aging the case to give it an 80 year look.
I just placed Dulcinea for sale along with my other handmade cigar box guitars. 
You can find them all here
.
Stay primal,
Shane 
---
The Return of the One-Fat-Man Band...

I'm returning to my one-man-band roots for several upcoming shows, starting tonight at The Leaf Cigar Bar in Easton PA.  (7-10pm tonight, btw)
. 
I will be returning to monthly residence at the Liquid Hero Brewery in York PA every First Friday from November until March.  See all the shows here.
---

---

See Shane's other recent "Art of the Cigar Box Guitar" article at Guitar World: The Art of the Cigar Box Guitar and the Absence of Rules
---