Playing badass blues licks ain't hard... Here's an easy lesson to get you grindin' on the back porch. Tuning: GDG. 
Scroll down for info on the Shane Speal Classic Cigar Box Guitar.
Get a Stubby Slide at http://stubbyslide.com
---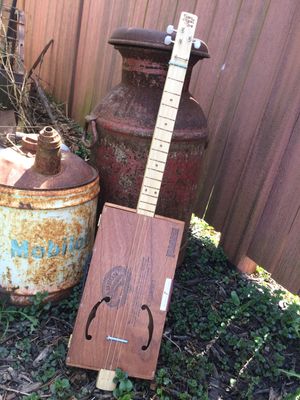 The Shane Speal Classic Cigar Box Guitar 
This is the guitar that started the modern cigar box guitar movement. Three strings and an acoustically brilliant Padron all wood cigar box. Handmade by me, Shane Speal in my Pennsylvania shop. 
Tuned Open G: GDG. Also includes a full tuning guide with many other cool tunings to try. 
These are loaded with an active preamp with four-band EQ and volume knob. 
Three-string, fretted cigar box guitar. 
Acoustic electric with internal piezo rod pickup and onboard preamp. 
All wood Padron cigar box. 
Poplar neck with a 23" scale. Woodburned fret markers 
Played with a slide. 
Signed and dated. 

>>>DON'T FORGET TO ADD A STUBBY SLIDE TO YOUR ORDER. 
Guitar shipping: 
$19 US $45Worldwide