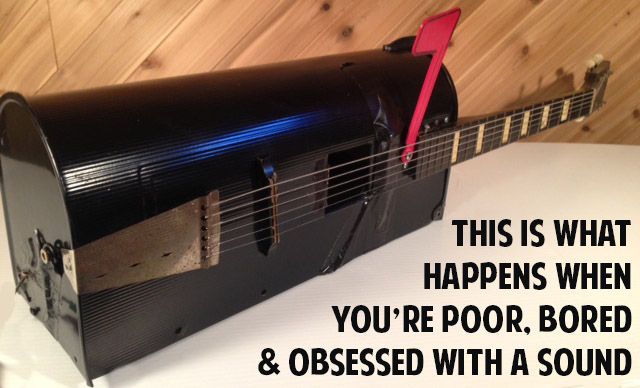 My 13-year-old son has been begging me for an iPhone and I keep thinking about my Mailbox guitar...

He's saved his money and even planned out how he's going to pay for his data plan.  Yet, I just can't sign off on the idea.  It's because of the Mailbox guitar.
Back in 1998, I was in the lowest point of my life:  Lost marriage.  Living in a tiny apartment.  No TV.  No internet.  Yet in all my boredom and depression, I was still obsessed with music.  Most importantly, I wanted to own a metal bodied Dobro guitar.
It was 2am when I found myself wide awake, nothing to do and $15 in my pocket.  I decided to go to the one place that was open (Wal-Mart) and find find materials that I could build an instrument using the cash I had.  After trolling around the empty store, I walked past a cheap metal mailbox in the hardware area and the voice inside my head screamed
I took the mailbox home and started making plans to create the one instrument I was obsessing over. 

The next morning, I sacrificed an old acoustic guitar for its neck and parts and created this monstrosity in about 4 hours.  It was perfect.  It sounded just like a metal bodied dobro and it was mine!

There's something to be said about being bored.  My kids think boredom is the greatest sin and I think it's the greatest opportunity.  We explore when we're bored.  We create. 

He's not getting an iPhone.

Stay primal,
Shane Speal
---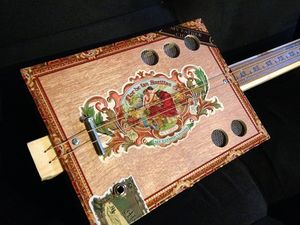 Save 20% off all cigar box guitars... now until tomorrow night.  Use the code SNAKEOIL at Shane's Online Store. 
I am about to change servers for my online store and will transfer everything next week.  (Don't worry, I'll send you the new link.)  In the meantime, I activated the SNAKEOIL coupon code so you can save 20% off any cigar box guitar in stock.  (Use the code during checkout.) The sale runs until Thursday at Midnight.  Shane Speal Guitars
---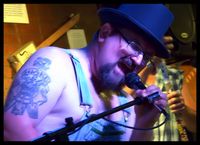 IN CONCERT THIS WEEK:  Shane Speal's Snake Oil Band performs live at Roosevelt Tavern in York PA on Friday @ 9pm.  No cover.  More info here.  (This is our first time there.  We're gonna go nuts!)
---

---
Visit the all-new
www.ShaneSpeal.com
We've added lessons, more photos and made it a helluva lot easier to get around!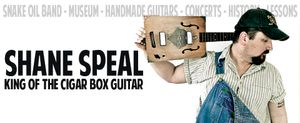 ---
The Shane Speal newsletter is sponsored by C. B. Gitty, the world's biggest cigar box guitar parts superstore.  Visit them at
www.CBGitty.com